Forex brokers provide the services you need to trade CFDs. In addition to these, they also partner with third-party companies to provide you with trading platforms. You can use these platforms as desktop software and web traders. Most traders prefer to check the markets using the desktop versions of software. They give a better view of present and current price movement.
However, desktop trading software like MT4, MT5, cTrader, etc has a limitation. You cannot use them on the go. You will need a power source, internet, a workspace, etc. This is where forex trading apps come in. Most forex brokers have their platforms and third-party platforms available on mobile phones. Using forex trading apps is helpful for short analysis, quick opening, and closing of trades.
Note: It is advised that you should not trade via your Smartphone only. Trading requires research & analysis. You should only use the app as an added feature with the actual platform. A mobile device should only be used as a secondary device for checking your position on the go.
Show More
Comparison of Best Forex Trading Apps in Kenya
| Broker | CMA Regulated | Android App | Apple iOS App | Minimum Deposit | Visit |
| --- | --- | --- | --- | --- | --- |
| HF Markets MetaTrader App | Yes | Yes | Yes | $5/578KES | Visit Broker |
| Exness | Yes | Yes | Yes | $10/1156KES | Visit Broker |
| Pepperstone MT4 | Yes | Yes | Yes | No minimum deposit | Visit Broker |
| FXTM MetaTrader | Yes | Yes | Yes | $5 | Visit Broker |
List of Best Forex Trading apps in Kenya
Here is how we reviewed each forex trading app
#1 HF Markets MetaTrader App – Best Forex Trading App in Kenya
HF Markets is a CFD broker that offers its App to trade 53 Currency pairs, CFDs on 945 DMA Stocks, 54 Shares, 5 Commodities futures, 6 Metals, 4 Energies, 34 ETFs, 3 bonds, and 23 Indices.
Safety – HF Markets' trading app is considered low risk because HF Markets is licensed by 3 Tier-1 & Tier-2 regulators; the FCA, FSCA & CySEC. Also by Dubai Financial Services Authority (DFSA) and Financial Services Authority (FSA) in Seychelles. Traders from Kenya are registered under HFM Investments Ltd (regulated with the Capital Markets Authority (CMA) of Kenya
Fees – Their CFD trading fees are considered low as per our comparison. Their average spread for majors like EURUSD is 1.3 pips with their Premium and Micro Accounts, and there is no extra commission per lot with these Accounts. HF Markets Zero Spread Account has spreads starting from 0.0 pips but also charges commissions on forex trades starting from $3 per side. HF Markets does not charge deposit or withdrawal fees.
Accounts – HF Markets offers six (5) types of trading accounts, with varying spreads, including an Islamic account, so you can choose the one that best suits your trading needs. They even have a Zero spreads account but require a minimum deposit of $200 for this account.
HF Markets has negative balance protection that prevents you from losing more money than you have in your trading account.
Trading Application – In addition to the HFM App which is owned by HF Markets and available on mobile devices only (iOS & Android), HF Markets supports MT4 and MT5 web-based and desktop platforms as well as the mobile app versions (Android & iOS).
The mobile app has most of the tools you need to manage your trades on available CFD instruments from anywhere. While you can deposit and withdraw directly from this app, it does not fully cover the functionality of the HF Markets website.
Deposits & Withdrawals – You can deposit a maximum of $10,000 per transaction with debit cards like Visa and Mastercard and a minimum of $5. It takes about 10 minutes to reflect in your account.
HF Markets supports direct withdrawal to your Kenyan bank account and funds are received within 24 hours. This requires a minimum withdrawal amount of $10 equivalent in Kenyan Shillings. It takes 2 to 10 business days to receive funds if you want the money transferred to a dollar bank account, and some charges might apply by the correspondent and receiving bank.
Withdrawals can also be made to cards, the minimum withdrawal amount is $5.
Support – HF Markets offers customer support 24/5 via email and live chat on the website or mobile app. They also have local phone support in Kenya. Their support is good as per our tests.
Read our HF markets review for more.
#2 Exness – CMA Regulated broker with MetaTrader App
Exness is one of the low-cost beginner-friendly CFD brokers that accept traders based in Kenya. Financial instruments offered by Exness are 99 forex pairs and CFDs on 3 energies, 10 metals, 10 indices, 98 stocks, and 35 cryptocurrencies.
Safety – Exness was founded in 2008 and they are locally regulated by the CMA. They are also Licensed by the FSCA, FCA & CySEC. This makes them a low-risk and safe CFD broker for traders in Kenya.
Fees – The spread for the majority of CFD instruments is tight, with an average for majors like AUDUSD being 1.4 pips with Standard Account. Exness offers free deposits and withdrawals, with no commission on trades with Standard Account. They have low spread + commissions starting at $0.2 per side lot and up to $3.5 per side with Raw Spread and Zero Accounts.
Account – Exness offers 5 types of trading accounts with different features. They also have Raw Spread and Zero Spread Accounts with spreads starting from 0.0 pips. You can also apply for an Islamic Swap-free account on Exness.
Exness has negative balance protection that prevents you from losing more money than you have deposited into your account.
Trading Application – Exness is a MetaTrader-based CFD trading platform with MetaTrader 4 and 5, which provides standard and professional account types. The web trading platform is available, while the app is available for download from the App Store and Google Play Store.
You can run your custom scripts for automated trading on their MetaTrader platform. For a secure connection, Exness encrypts all communication between the server and trading platform with 128-bit keys.
The app has a Margin Calculator that easily determines your margin size, swap rates, and pip values before placing a trade. It also has a converter to help you calculate the currency's exchange rate. A Calculator is also available on their website.
Exness has MT4 multiTerminal which allows you to manage multiple accounts, place new orders and allocate lots across various accounts simultaneously and monitor real-time positions.
Exness also has a proprietary trading mobile application 'Exness Trader App' which is available on iOS and Android devices.
Deposits & Withdrawals – Traders can instantly fund their accounts with online bank transfers in Nigeria at zero fees. The minimum deposit amount is $10 with a maximum of $45,000, while $3 is the minimum withdrawal amount and a maximum of $12,000 per transaction.
Support – Exness has 24/7 customer support via email and live chat, as well as a knowledge base FAQs section with information on how to navigate and use the website and app.
#3 Pepperstone MT4 – Good Forex Trading App for Raw Spread
Pepperstone does not have a proprietary mobile app. They support third-party trading apps that allow you to trade 60+ currency pairs, 20+ stock indices, 900+ stocks, 100+ ETF CFDs, 20+ commodities, and 3 currency indices.
Safety – Pepperstone is regulated with top-tier bodies like the FCA and ASIC. They also hold licenses with CtSEC, DFSA, and BaFin. Importantly, they are locally regulated with the CMA as Pepperstone Markets Kenya Limited. They are considered low risk for Kenyan traders.
Fees – Pepperstone charges spreads and swaps. They have a Standard Account and a Razor Spread Account. The average spread on the Standard Account is higher than that of the Razor Spread Account. Commissions are charged based on your account's base currency. Dollar-based accounts pay $3.50 per standard lot as a commission on MT4/MT5. This fee applies to Razor Accounts only.
Account – As mentioned earlier, Razor Account and Standard Account are the two accounts offered by Pepperstone. The accounts do not have a stipulated minimum deposit. However, Pepperstone recommends a minimum deposit of $200. The Razor Account is ECN-type so the average spreads are low.
Trading Application – Pepperstone has MT4, MT5, and cTrader mobile trading apps. They are available on Android OS and iOS. You can download them on the Google Play store and the App store. You can use these apps after opening an account with Pepperstone. You will get access to advanced trading tools, indicators, and an economic calendar.
Deposits & Withdrawals – For funding and withdrawals, Pepperstone accepts M-Pesa, debit/credit cards (Visa and MasterCard), PayPal, and local bank transfers.
Support – For help and inquiries, pepperstone has good customer support. You can contact them via email, a phone call (local Kenyan number), and live chat.
#4 FXTM Trader App – Reputable Forex Trading App
FXTM Trader is a provider of financial trading services, offering over 2,500 trade instruments, including CFDs for 3 commodities, 1,288 shares, 829 CFDs stocks, 5 stock baskets, 5 metals, 17 indices, 6 FX indices, and 60 currency pairs.
Safety – The company is registered as ForexTime Limited in Cyprus and is well-regulated by CySEC, FCA, and FSCA. Which makes the broker score high on trust and is considered safe. Traders from Kenya are registered under their license in Kenya as Exinity Capital East Africa Limited.
Fees – Deposits are free of charge and the average spread fee is around 2.1 pips for major currency pairs on Micro accounts, which is relatively higher than most brokers. Advantage account holders are charged spreads from 0 pips plus a $0.40 to $2 commission per lot side opened on trades with Majors.
Account Features – FXTM offers 3 trading accounts as well as an Islamic Account option for Muslim traders. Different FXTM account types determine the kinds of instruments you can trade. The broker also offers negative balance protection on all account types.
Trading Application – FXTM supports MT4, MT5, and FXTM Trader which is owned by FXTM. The broker has multi-platform support, meaning you can trade on the web or use their mobile apps available on iOS and Android devices.
Deposit & Withdrawals – FXTM supports Nigerian traders to deposit and withdraw funds via their bank accounts in Kenya. They also support e-wallets like Skrill, Neteller, and M-Pesa.
Support – FXTM also offers a range of educational resources on their website, and 24/5 customer support via live chat, email, and Nigerian phone numbers. This includes personal account managers, who can assist and support you in your trading journey.
Read our FXTM review for more.
Types of Forex Trading Apps
There are two types of forex trading apps. Some forex brokers have both while some support just one type. Let us break them down:
1) Third-Party Trading Apps: These trading apps are developed by other companies for forex brokers. These companies allow CFD brokers to host their trading services on their trading apps. A prominent example is MetaTrader 4 and MetaTrader 5 mobile developed by MetaQuotes.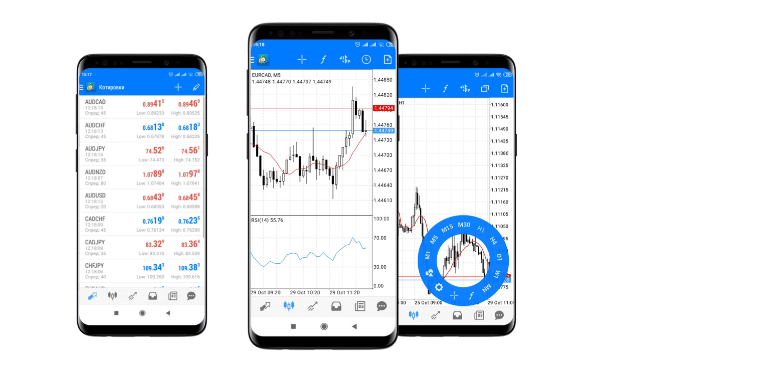 Another common third-party mobile trading app is cTrader mobile developed by Spotware Systems. These companies are not brokers. However, they partner with brokers globally so traders can use the app through their clients.
2) Proprietary Trading Apps: Proprietary trading apps are developed by forex brokers independently. This is not done in conjunction with third parties so the names of these trading apps vary from broker to broker.
For example, most brokers just name their apps after their companies just name it after their company (like FXTM Trader and Exness Trader App Station)). Because these apps are developed by brokers individually, their trading conditions and interface are never the same too.
Advantages of Using Forex Trading Apps
There are some pros that come with using forex trading apps. We look at a few in this section.
Ease: It is easier to trade forex with trading apps. In the past, traders needed an office and a desktop to analyze the market. To get key economic news, they have to read newspapers. In addition, access to industry experts was so difficult. They have to make a number of calls to get advice. A single proprietary trading app can perform all of these functions and much more.
Flexibility: Apart from the convenience that trading apps bring, they also offer flexibility. With mobile apps, you can trade on the go, analyze the market, and monitor your positions. You can do these while you are in a car, hanging out with friends, or taking a walk. This will not be possible if all that was available for trading are desktops
Disadvantages of Using Forex Trading Apps
Though forex trading apps are very useful, they also have some disadvantages. If you really want to be a proficient trader, you cannot use mobile apps alone. Here is why:
Size of the Screen: This is a major challenge with using mobile apps. They do not give a good view of past price movements, especially on higher timeframes. This experience is not so good. Many traders use up to two or more desktops to have a full view of the market. You cannot do this on mobile devices, not even a tablet.
Difficult to Focus: Mobile trading apps can lead to a lot of distractions. This could come from notifications from social media apps, a message, or a call. These interruptions are not good for traders and can affect long-term performance. Desktops do not have these issues.
Execution Speed: Forex trading apps have improved over the years. However, there could be risks of your app crashing when trading. In addition, mobile networks might not be very reliable. This affects execution speed and leads to latency.
Overtrading: Because it is easy to access charts on the go, mobile apps heighten the tendency to trade more. This in turn increases your chances of losing more money. To deal with this, you need to be disciplined and stick to your trading plan.
How to Choose the Best Forex Trading App in Kenya
Before choosing a forex trading app, there are a few things you should consider. The following questions should influence your decision-making.
1) Is the broker safe?
To consider a forex broker safe, you have to ensure they have a tier-1 license with the FCA (UK) and ASIC (Australia). Though not necessary, a tier-2 regulation with CySEC is good as well. After verifying these regulations, you can then proceed to verify the broker's local license with the CMA in Kenya.
Even if your broker does not have a local license in Kenya, tier-1 regulations are good enough. They show a broker can be trusted and that they are low-risk.
2) What are the broker's trading fees?
The next factor for picking a broker is their trading and non-trading costs.
Most brokers currently charge zero fees for withdrawals, deposits, and, while being competitive with the spread and swap rates.
For example, in a EUR/USD pair trade. Say the bid price is 1.1300 & the spread is 1.5 pips. This means that the trader would pay $1.5 for a 1 Mini Lot trade. If you hold the position overnight, then there will also be Holding charges i.e. Swap Fees.
Ensure there are no hidden fees, commission costs are affordable, and the spread is not too wide, before using a brokerage app.
3) What CFD instruments are available?
There is no industry standard for the number of CFDs a broker should have. Some have a wide range of instruments while some do not. However, the reason you should check the CFD offered by your broker is that all brokers do not have the same CFDs.
So if you want to trade Gold CFD for example, is it available? Can you trade it for lesser costs on multiple accounts? These are crucial factors you should consider.
You should choose a trading broker that offers a plethora of trading instruments, allowing you to trade currencies, stocks, and commodities.
4) Ease of use
If you wish to start trading on your mobile phone, you must check that the app is available on your phone platform: i.e. Web-based, Android, or iOS.
The next step is to download it and try using it, then see how long it takes to register and perform some micro-tasks on it. Alternatively, you can read the feedback of other users to help you decide.
When choosing a trading app, you want to find something that's not only open, free, and powerful but also simple to use.
5. Other Features to Check on Trading Apps
There are a few other features that you should check in the app.
a. Ease of Funding/withdrawals: Funding and withdrawal should be easy. Your broker should support credit/debit cards and bank wire transfers. E-wallets such as PayPal, and Skrill should also be available. Finally, you should be able to deposit/withdraw in pounds without excessive charges.
b. Risk Management Tools: In unique situations, the market might execute your stop-loss order at an unfavorable price, leading to more losses. A guaranteed stop-loss order (GSLO) makes sure your stop-loss order is executed at your desired price. You should speak to your broker to know if they offer GSLO.
c. Is Customer Support Good or Bad: Your broker should be reachable via different means. Email, local mobile numbers, live chats, and instant messaging should be available. Quick response is the hallmark of good customer support so make sure to carry out a personal test.
d. Two Factor Auth: Does the platform support 2FA? This will provide added protection against hacking. Some forex brokers have 2FA for their accounts, and you should check this with the support of the broker that you intend to signup with.
e. Education: You want to choose a forex broker that allows you to learn. This is why education on trading apps should be key for you. The education content could be videos, written content, podcasts, or ebooks. Most of this content is usually on the broker's websites. Few brokers like Capital.com have their educational content on their mobile app.
FAQs on Best Forex Trading Apps UK
Which is the best forex trading platform in Kenya?
Any trading platform with tier-1 regulation and CMA regulation is considered safe for Kenyans. You can then consider other factors like fees, trading software, customer support, etc before choosing a trading platform.
Which is the best trading app in Kenya?
HF Markets, Exness, FXTM, and Pepperstone have the best forex trading apps according to our review.
What app do most forex traders use?
MT4 and MT5 are the trading apps most traders use. But it is not uncommon to find traders using a broker's proprietary trading app.